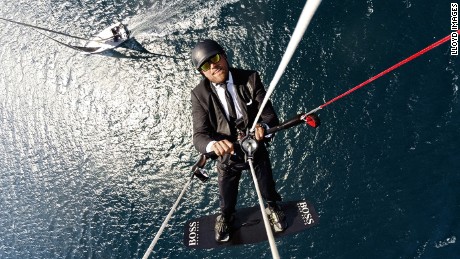 (CNN)The suited stuntman is at it again — daredevil Alex Thomson has released a video of his latest vertigo-inducing trick.
First he chases his yacht upwind on a kiteboard before hooking himself by rope to the top of his 60-foot racing boat's mast.
Using its speed to propel himself, the British around-the-world sailor soars 280 feet into the air above the yacht — flying twice its mast height at the equivalent of a 25-story building.
In a stomach-clenching moment, Thomson then releases the line to the mast, freeing him to kitesurf expertly down to a perfect landing on the water — all while dressed in a sharp suit provided by his sponsor.
Dubbed "The Skywalk," the death-defying stunt is said to be the most dangerous yet by the 41-year-old, who in 2012 performed "The Keelwalk" — walking along the heeled over keel of his speeding sailboat — and in 2014 "The Mastwalk," climbing up a 98-foot mast and plunging into the ocean below.
"There were lots of things that could have gone wrong," Thomson said after his 13th and final attempt of the Skywalk, which was filmed in July 2015 and released this week.
"Perhaps most concerning for the team was the prospect of an uncontrolled descent, causing me to come back down too fast.
"Water can be as hard as concrete if hit with enough velocity, so this was one of the most dangerous aspects. But I had a brilliant team around me and with their help, we managed to pull it off."
Combining his love of sailing and kitesurfing, the stunt was performed at Alvor on Portugal's Algarve coast, a hotspot for the adrenaline-fueled sport.
READ: Sailor shakes off shock after $5M boat capsizes
In November, Thomson will compete in the pinnacle of the Ocean Masters race calendar — the Vendee Globe — a nonstop, solo round-the-world race that he is determined to win.
Though no Briton has so far won the prestigious race, Thomson has a clutch of sailing records to his name — in 1999, at 25 he became the youngest skipper to win a round-the-world race.
In the Vendee Globe's last staging in 2012-13, Thomson finished third, completing the solo marathon in 80 days, 18 hours and 23 minutes.
What do you think of Thomson's stunt? Tell us on CNN Sport's Facebook page
Visit CNN's MainSail page for more yachting news
Read more: http://www.cnn.com/2016/03/17/sport/alex-thomson-skywalk-stunt/index.html